I am going to clarify a few matters that have been the topic of pms and posts on this and other forums.
The first will be my litter: Marigold was taken abroad to mate in the summer, her first, and all being well, her only litter; both dogs were fully health tested above and beyond the standard required in their own country and with excellent results. I received some insulting pms, and some nonsense was also posted, because of this I gave the results of the tests to a Labradoodle breeder you know and respect so that it would be clear that I practise what I preach, that is breeding only from the best stock and very infrequently. I've had 2 litters this century and kept a puppy from both, neither of these will be bred unless they are of a very high standard and no breeding will be ever be done for financial gain.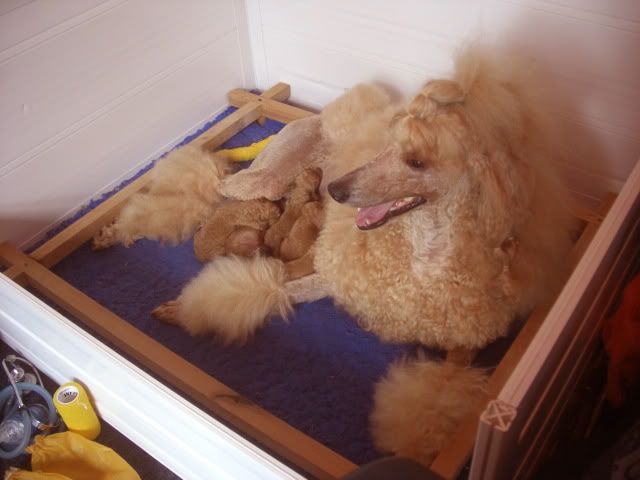 I could not come online and share my happiness over this litter because the safety of my dogs and family were directly threatened by a large commercial breeder who said in addition to other alarming threats that they would "get" my dogs. I'm glad to say this conversation was recorded.
I have waited for the puppies to be safely homed and well settled before this announcement. I know exactly the location of all the dogs I have bred, they are happy and in loving homes, with my back up if they need it.
My suspension
It is fair to say that the moderator and I have both lost faith in each other's good judgement. The 2 posts I made in the 24 hours before my suspension were not deleted, I believe that the breakdown in trust was over matters not in the public domain and I will not say any more. I hope things will amicable in the future.
I am heartened and grateful for the amazing level of support both on and off this forum for what was a painful time. I'm delighted that my experience has been useful to some of you, I benefited greatly from the experience of older breeders when I started out in the dog world and it is good to be able to hand this on. We all build on those that taught us and all of us have still to learn, there are very few certainties and I have had my errors shown up all too frequently.
The state of the market
If you are breeding because you just fancy a litter, please don't, there are difficult times ahead.
The credit crunch came after my litter which were booked anyway, at the moment I would not breed unless I was very certain of homes, this situation is the same throughout the dog world but higher priced larger dogs will be the hardest to home. At a time of uncertainty the public do not take on extra responsibilities, and some who do will give up their pets because of financial hardship and change in lifestyle. Although breeders should accept responsibility, many dogs down on their luck are in need of the Breed Rescues and Labradoodle Rescue is doing a fantastic job with an increasing work load. It may well be the best rescue I know.
A very Happy New Year everyone, my family is looking forward to a new baby any minute now.