Dexter loves jumping for the water from the hose! Colin hides!!
---
Dexter isn't a reincarnation of a whale or seal is he by any chance?
Becky and Jack would be under the bed with Colin
If I pick up a hose to water the garden they run a mile, yet Beccles adores swimming
---
Max hates water as a rule, but was snapping at the hose at the weekend whilst I was filling up
the fish pond. His favourite way of helping in the garden is to drink the water as I am watering the plants with the watering can
---
Marley loves any water, the smellier the better
He gets really excited when I start pulling the hose out and rushes round the garden like a mad thing jumping into the water and drinking as much as he can.
Duffy runs behind the shed and hides. She is a really girly girl and hates getting dirty or wet anything above her paws level. Very helpful being white
Marley and Duffy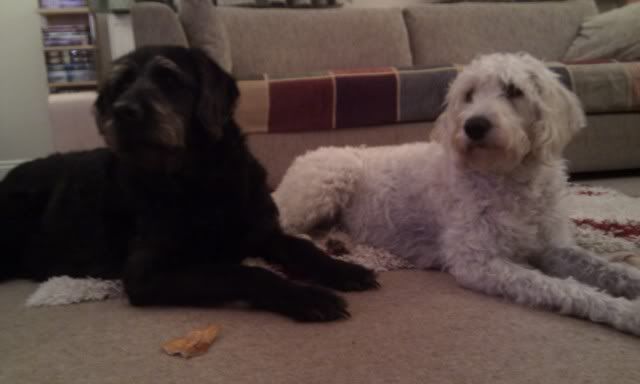 ---
Posts: 1015
Joined: 06 Apr 2007, 19:41
Location: Dunstable
Great pictures Pauline
Trish
www.madaboutdoodles.com
---