Hi there not had a great day today whilst walking Bruce this evening before going out to work we were heading home up the lane when further up the lane was a man with a small dog on a lead and a large terrier x off it's lead the terrier turned and noticed me and Bruce ( Bruce was on his lead) and ran full pelt towards us and jumped on Bruce really viciously and bit and hung on to Bruces back I was shouting the man to help me whist tring my best to get the dog off mine. when the man eventually came and helped he struggled to get the dog off but eventually did and just said sorry and walked off
Bruce had this happen once before when he was 7 months old whilst on his lead but was bit on the face and it changed his behaviour towards other dogs only when on his lead he would be aggressive if a dog got to close,off lead he was fine Bruce is now nearly two and his behaviour on his lead has improved so much but I'm so angry that today's events could have knocked him right back.
Also I don't know weather I did the right thing by not letting Bruce go my
OH said I should have let go of his lead and let Bruce defend himself
But I had visions of the other dog getting Bruces neck and I was trying to keep him away from his face I was also screaming at the man which
probally made everything worse poor Bruce I really feel I've let him down
As you can see it's the small hours of the morning whilst I'm typing this but I'm still so worked up about it I felt I had to have a rant.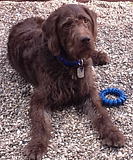 Emma and Bruce