Cate, he's GORGEOUS!! And what a lucky boy to have ended up in doodle heaven with you and your crew. Massive well done to you Cate, you have a big heart xxx
Julie and Aero xx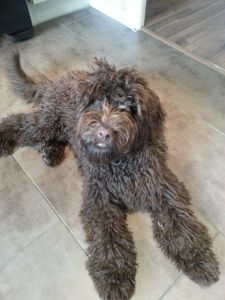 ---
Posts: 101
Joined: 05 Feb 2009, 10:32
Wow, what a stunning lad he is! Well done Cate!
Kerouac, Teddy and Rosie
---
He's lovely! The same colour as my Colin!
---
Posts: 322
Joined: 25 Mar 2012, 22:00
Cate,
I'm just catching up with the forum after having a break from it as I've not been too well ..... another doodle , and a big one too
so much fun xx
Have you thought about volunteering for the Labradoodle Trust ? I now volunteer for them and it's really worthwhile. We need to meet for a doodle dash soon, I can bring Henry over to you if easier .
Henry "Doodle" and Tracey x
---
Posts: 3507
Joined: 03 Apr 2011, 10:51
Location: Derbyshire
Thanks for sharing the great news
He is a stunner
Well done Cate, you are awesome
Tracey, hope your feeling better now.
Nicky
---
I am glad it was me that took Leo on, even though I had no intention of getting another. If Leo had fallen into inexperienced hands he would be passed on continually, exasperating his problems. Leo is a huge boy who doesn't know his size (I have had big dogs previously), he is also very nervous around new people, he does like to get on my knee for a cuddle. I have also had to scalp him as again he was one huge matt.
He's going to be hard work, but he's already worth it
---
Cate wrote:.........Leo is a huge boy who doesn't know his size.......... he does like to get on my knee for a cuddle.
sounds a little crowded
---
He is just so handsome. Is he actually a lab/poodle cross or could he be another poodle cross do you think? Exactly how big is he, cos in the picture he appears ENORMOUS!
Lola is a UK Assistance Dog, trained to alert me for low blood sugar by Medical Detection Dogs (http://www.medicaldetectiondogs.org.uk)
---
Oh isn't he beautiful
Had a chuckle at him sitting on your knee for a cuddle lol
Thank God for people like u Cate xxxx
---
Liz I am 6 foot tall, and when he stands on his back legs we are the same height
---
Is is ginormous!! What a beautiful looking dog he is, you have struck gold - again!!
---