welcome. Ah - those real puppy days.
---
Welcome from us too, Cookie is just gorgeous!!

xx
Julie and Aero xx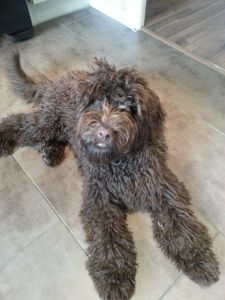 ---
Phoebe and I say hi to Cookie and co. The white chest blaze is special!
---
Welcome from us too! She is a sweetheart! My black doodle Beamish also has a white flash - he keeps it hidden most of the time though
www.dogtrekker.co.uk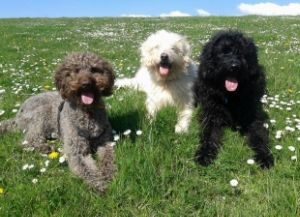 Beauty without vanity, strength without insolence, courage without ferocity, and all the virtues of man without his vices - Byron
---
Posts: 190
Joined: 18 Sep 2012, 14:40
Location: Bath
Hi Cookie - aren't you super duper curly!!!

Welcome from us xx
---
Thanks for the welcome!!! When does the chewing stop!!???? P lol x[u
rl][/url]
---
Welcome cookie - we got a gazillion toys for Lola so she could chew as much as she wanted, and made it clear she was only allowed those to chew - and i took the matt in the living room away for a while, and sprayed anything else she seemed interested in with nasty-tasting stuff.

I'd say she stopped for good at about 4 months. If not before.

She has never chewed anything else in the house since, but I did make sure she has never had access to shoes, and that she always has something to chew of her own, preferably several types of thing.

We also got her some toys you can fill with water and put in the fridge for when she was teething.
Outside of a dog, a book is man's best friend. Inside of a dog, it's too dark to read ~ Groucho Marx

---
Thanks yep removed the mat and got a stag bone today and toys rotating Stag bone is great !!! P
---
Posts: 348
Joined: 06 Jan 2012, 19:23
Location: Sheffield
Hello to you and Cookie
How cute and I too love the little flash of white.
PP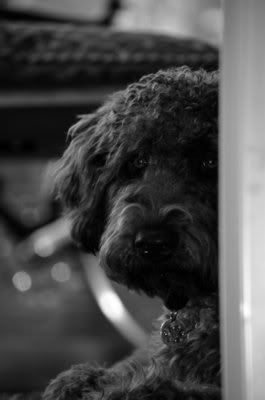 ---
Posts: 190
Joined: 18 Sep 2012, 14:40
Location: Bath
Oooh whats a stag bone ???
Ive been looking at the rawhide bones but they aren't allowed those until they are a bit older (cant remember the exact age) Ive just bought a kong and filled it with a few things - mainly the free royal canin (or whatever it was called) food I got from the vet and the KONG treats.
Our local farm shop sells bones but again, she is to young. I bought some pedegree puppy edible chew sticks, that felt quite solid in the pack but lasted a few minutes!
She has a lot of toys which seem to be doing the trick.
Tania x
---
Welcome Cookie, you are gorgeous!!!
From Maisy
ps: Maisy is 10months and still chews! not as bad though! & it's only when she's not had a walk/bored!so the earlier the walk the better!
---