Posts: 252
Joined: 24 Feb 2008, 11:25
Location: Chingford, London
CONGRATULATIONS!!!!!!!!

ARCHIE is a great name for a doodle, what handsome fella.

Enjoy your new family addition.

Lynn
---
Hi Chris,Kate Lola & Nel,

We got your message thanks. It always helps to get as much info as poss!
Otto was HUGE!!but so calm it was great to see loads of the pups family.

No 'Doodle Dash' a yet but he has launched himself off the step in to the garden several times much to our surprise

We will keep you informed
---
Congrats Tony Glad you decided to take him home we felt so sorry leaving him behind! He is adorable and Archie is a great name for him.
He is a very friendly chap and they all seem to be doing great on the sleeping through without accidents - so thanks to Carol too!!!
Otto is large but heh you don't want a tiddly dog!! Less to cuddle. Monty started his Doodle dash the second day so watch out...
Have fun and keep the piccys coming.
Sue, Doug, Monty & Tigger
Sue & Monty
---
Congratulations Tony and family. Hope we get to meet one day, Archie is adorable love the name!
Susan, Rosie & Molly
http://www.susiedoodles.piczo.com
DON'T TRUST THE PUPPY FINDER!
---
What a handsome boy, looks like an Ollie or a Bertie
Pat & Alfie
hadn`t read full thread Archie is a brill name
---
Welcome Tony and Archie! keep the pics coming.
x
---
Posts: 304
Joined: 25 May 2007, 20:08
Location: Halifax, West Yorkshire
Hi Tony,
We live in Halifax too (Greetland) and have 2 doodles: Max (4 years old) and Alfie (15 months). Alfies dad is Stonecellars Andrew (Henry) bred by Carol Shaw so I guess our dogs are possibly related somehow?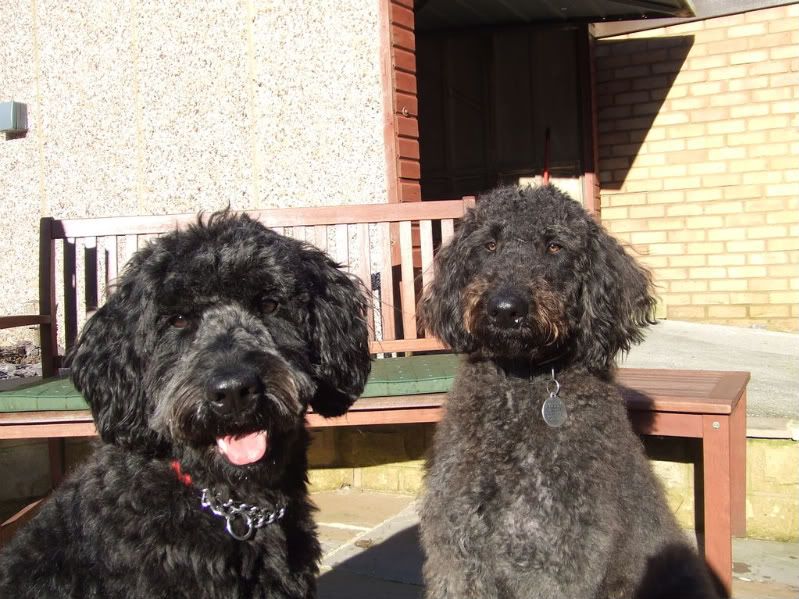 Alfie is on the right. Would be great to meet up when Archie is a bit older.
Charlotte, Paul, Alfie and Max
---
Posts: 17
Joined: 03 Jun 2008, 22:00
archie brilliant name great looking puppy have fun enjoy your special times
love julie rick and buddy x
---
Posts: 518
Joined: 08 Feb 2006, 23:33
Location: SPRINGWELL HOUSE FARM WASKERLEY CONSETT CO DURHAM
Contact:
HI A bit complicated but yes they are related Henry is Busters litter brother Buster is Archies grandad so from the same line will probably go silver. Two of Archies litter siblings are going to Holland as Assistance dogs as 3 from last years litter went and have excelled so much so that I was invited across when they were presented with there"Jackets" working clothes it was a great honour and even more so when the Dutch association did a demonstration to the Queen of Hollland with 6 dogs and 3 were Stonecellars makes it all worthwhile Carol Trevor and the Doodles
---
Posts: 56
Joined: 08 Mar 2008, 11:33
What a fantastic name for a fantastic looking dood.
Has he taken over your life yet
We could nt believe how quickly Ted settled in as though we'd always had him
Big cow licks from Ted by the way
look at me ! im ted .
---
welcome to Archie!
our girl, Ripley is also from Carol and Trevor's @ Stonecellars...
Otto and Coco were her parents...
she has a beautiful temperament and we wouldn't be without her.
enjoy Archie
Fish
---