Hi All
Count us in & the more the merrier I say
Dizzy & Kona
---
Hi Doodies Mum & Diamond hope you can distinguish your Doodle
in our whirling Dervish of doodles?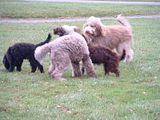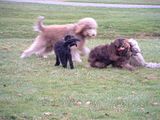 clare43126 & Midsdoodlewanter
Sorry if you missed us today
we did look out for you & did not start walking till around 11:20.
We really enjoyed meeting up for yet another lovely walk
I now have one shattered doodle thanks. Dizzy & Kona
---
Great time had by all, good to make new friends. Thanks for posting the pics, if any of ours good enough will do the same.
All the best, Dawn Keith and Buddy zzzzzzzzzz!
---
Hopefully a couple more pics of todays walk, keep fingers crossed, still not got the hang of this again.
---
Don't know what happened to the pics, will try again.
---
Posts: 22
Joined: 07 Mar 2007, 23:19
Location: Ashby-De-La-Zouch
Ah well
- Clifford and Dillon arrived at 11.45 and they only found a lovely Labradoodle coated choclate Lama and the many rare breed Cow's amongst the undergrowth.
No doodles to be seen
Found no water for swimming, so they went home without realising we had made the effort to entertain them.
How many Doodles were present?
---