did anyone go on saturday, we met quite a few labradoodles, there and all were gorgeous, IMO, and as usual no labradoodles were placed in scruffts, we had ziggys photo taken by the russian black terrier club and he was made a honoury member as they couldnt believe he wasn't one, all in all a good day was had by all
http://s154.photobucket.com/albums/s240/debs43/
---
Well he is certainly very exotic looking
Amber
www.doodlepost.net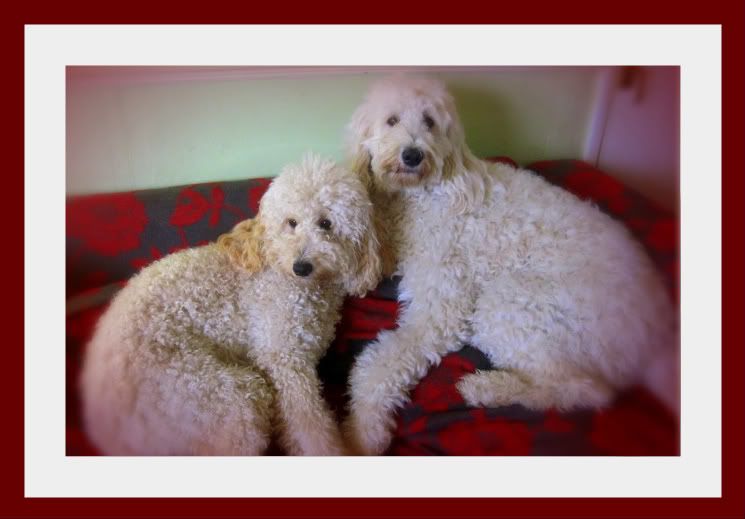 ---
Beautiful photo how lovely
Caroline x
---
Funny you should say that Debs....we were following a car today that had to black heads sticking out of the back window. We were on our way to the Sheffield doodle meet, and were convinced that these were 2 doods, coz they looked exactly like our Dylan. We had to stop at traffic lights, so i jumped out of the car to ask if they were going to the meet so that we could follow them (we were lost
) and yes, you guessed it, they were Russian black terriers
Catherine, owner of Roger & Dylan,
the
up and coming stud dogs
---
hiya catherine

I know the woman who was manning the BRT stand said a lot of people had asked her if her dogs were doodles and she said she always felt a bit put out, but after seeing ziggy she now understands why, she gae me some gret grooming tips though.
http://s154.photobucket.com/albums/s240/debs43/
---
Hello Debs
We went on Sunday, but we didn't take Barney and Molly. Molly seems fine in this heat, but Barney spends all his time in the shade so I didn't think he would enjoy it.
Last time we went was in 2005 when Barney was a puppy and we only met one other Labradoodle, but this year we saw about 10! I thought the DockDogs swimming pool was a great idea and we spent most of our time watching that.
Molly's coat is very much like Ziggy's so I would be interested in any grooming tips. She is 11 months old now and her coat started to matt a few weeks ago so I have had her clipped. Needless to say we don't like her new shorn look, but it's cool for the summer and hopefully will grow back quickly.
Hope to see you at an Essex Meet.
Heather
---
Hey Debs how are you guys? Will have to catch up again at another Essex meet - then Ziggy can meet Stan too!
I have a friend who has a RBT puppy who is in Stans class at school and he is just adorable, very very doodle like BUT he is extremely laid back and does everything at his own pace - no rushing
---