We went to our camping rally this weekend ,and the was a large field at back of our van ,dexter and a couple more dogs on site had a run around ,then around 5 the farmer came and put electric fence up.So i said to my partner dont let dexter of lead bacause of the fence.we had been in rally tent and around 11 went back to van ,jon always takes dexter for last wee while i get bed ready.I heard a cry and then another and thought they are a long time ,so went to look ,jonn had lead in hes hand and couldnt find the dog ,he had gone under fence and must have tried to get back and couldnt,a few men looked on field and found him lying down over top end of field they had to lift him over the fence he was very frightend and slept on our bed ,which he never does.Why dont men listen he put my dog in danger i have only just started talking to him,just for the sake of a run in the dark my dog got hurt.He is fine now ,but it could have been a lot worse if he had run off .
---
Poor Dexter
I bet Jon doesn't do that again in a hurry!
www.dogtrekker.co.uk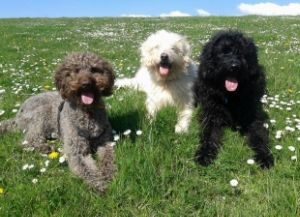 Beauty without vanity, strength without insolence, courage without ferocity, and all the virtues of man without his vices - Byron
---
Posts: 324
Joined: 05 Feb 2014, 09:50
Location: Caerleon
Oh dear, we don't know what to say. Good news that Dexter is OK but not sure about your husband!
Scooby Dood, Andrea & Kerry
---
Aw, poor Dexter- you must have had a real fright. Very glad to hear he's OK now
---
Oh poor lad! What a horrible experience for him... I hope he's feeling better now.
As to why men don't listen - I'd ask my OH, but what would be the point? He wouldn't be listening...
Anne & Ianto x
---
Aww poor Dexter... I'm thinking that perhaps Jon is feeling pretty rotten too
So pleased your lovely boy is ok xx
---
Posts: 2229
Joined: 10 Sep 2010, 18:36
Glad Dexter is feeling OK. Not nice experience for him. I would be furious too but think Jon must feel bad. Now you talking to Jon,tell him he better get a nice juicy bone from the butchers for Dexter ....and something nice for you too
---
I was out cycling on farmland with Mollie one day and she was facinated by an electric fence I kept telling her to stay with me but she just kept going near the fence which she finally touched it with her nose, She then gave out a large yelp then looked straight at me as if it was my fault is hasn't done it again since .
---